Come and discover the last artisanal biscuit factory in France: La Chanteracoise!
La Chanteracoise is an artisanal biscotti and biscuit factory, located in the heart of the Périgord Blanc, in St Germain du Salembre. Take advantage of your visit to Neuvic to come and attend their guided tours and discover the origin of the rusk, the history of the Chanteracoise as well as all their manufacturing secrets. To conclude the visit on a gourmet touch, a tasting of their creations will be offered to you.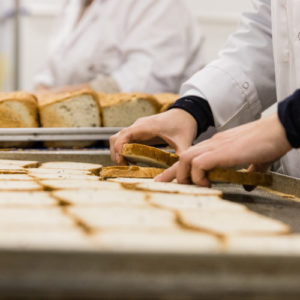 LA CHANTERACOISE

Visit from
---
History :
The history of biscotti begins in the 1950s in Périgueux, with a young apprentice baker, so passionate about his work, that he was entrusted by his employer with the well-kept secret of the recipe for these authentic biscuits.
A few years later, he decided to start and take over a bakery located in the small village of St-Germain-du-Salembre, where he offered bread cooked over a wood fire as well as his famous rusks.
Authentic rusks, the specialty of his bakery, are so successful that the young boy decides to open his own rusks. And in homage to Chantérac, his hometown, he baptized his biscotterie "La Chanteracoise".
Pictures credits : ©Nicolas RAVINAUD – NR Photo